(If you don't recognize the allusion. . . well, take it away, Mr. Bruce.)
***
As I mentioned on the Book of Faces yesterday, I drove up to Greenville yesterday to donate some platelets. I had planned to swing by my favorite Middle Eastern restaurant while I was there, but there was a sign announcing that they were going to be closed for a week and change, out of the ever-popular abundance of caution. I'm guessing there was a COVID test involved, but I don't know for sure. I was disappointed that I couldn't get a jar of their amazing hot sauce, but wound up finding an outpost of the HWY 55 chain, where I had a burger and fries.
Later, I went to Greenville's Barnes & Noble, where I found something I had hunted for a while. John Sandford is a thriller writer about whom I've heard good things, but I want to read his work in order, and had never run across a copy of the first novel in my usual used media emporium. But as it happens, I ran across a copy of Rules of Prey in paperback, so I picked it up, and I'll check it out in the coming days.
[Side note: All thirty of the novels in the Lucas Davenport series have the word prey in the title, from Rules of Prey to the latest, Masked Prey. In one of his Bernie Rhodenbarr books, Lawrence Block (who has expressed a fondness for Sandford's work) has a little fun, positing a Davenport case involving someone who murders vegetarians: Lettuce Prey. In that spirit, I suggest that in a future case, a murderer who suffers from urinary infections will leave bottles of cranberry juice at crime scenes. It will be called Ocean's Prey.]
From B&N, I went to Mr. K's used media store, where I found the American edition of a Rebus novel I haven't read yet (the UK title is Fleshmarket Close), and an album from Swedish garage revivalists The Caesars (a/k/a Caesar's Palace, a/k/a The Twelve Caesars.) Critics don't seem to like the band very much, but I know and like at least two of the songs on the album, so what's $3.95? From there, I made my way back home; it was a nice enough visit, but I hope that I can get some hot sauce next time.
***
As the kerfuffles of cancel culture (kerfuffles of kancel kulture?) go on, I find myself unsurprised but disappointed at the folks who think that posts like this are strokes of rhetorical genius: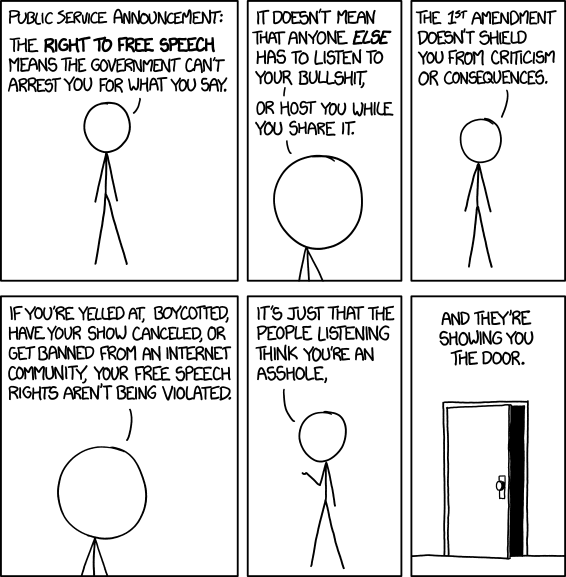 I suppose an equally clever response might be in order:
As I've noted in conversations in the past, what we have here are two genuine rights: expression and association. I believe that both of these are entirely legitimate rights — and I also believe that both of them can be misused and abused. Actions may be legal, but that doesn't make them wise or virtuous.
And as I see social media turning into a cross between The Crucible and The Ox-Bow Incident, I wonder how many of these present-day avengers would have been equally happy to denounce the Hollywood Ten in the 1950s or to cheer on a struggle session during the Cultural Revolution. After all — they're bad people with bad ideas, and all we're doing is showing those assholes the door, right? But the blacklisters and the Red Guards felt that way as well. It's easy to rationalize one's own cruelty, particularly when we can dress it in the robes of justice, but at some point, destroying people's livelihoods because they don't toe your particular line is simply indulging one's own inner bully and feeling the intoxication of a mob.
But as usual, Kevin D. Williamson does a better job of expressing all this than I do, and he does so today at NRO. If you haven't read his article already, I recommend it.
***
When I was writing Broken Glass Waltzes in the early '90s, I printed a mock "about the author" tag and taped it to the CRT of my computer. I don't remember it precisely, but it said something like, "Warren Moore is the author of Broken Glass Waltzes, his first novel. He lives in Toronto with his wife and daughter." Some of that worked out and some of it didn't, but I saw those lines each day when I sat down to work at the magazine, whether I was doing the work I was paid to do or stealing time to work on the book when my boss was out of the office. And the book got written, and much later, published. How strong is the connection between those events? I don't know.
But now, these many years later, I'm hoping to write something else, and in an echo of that earlier time, I find myself writing ideas that are a sort of scaffolding for the job I want to do. I'm following the advice of LB and Jerrold Mundis, and started today on a set of affirmations. I'll do them again tomorrow, and probably for quite some time to come. Why not? Something like them happened once in Cincinnati, or at least it didn't hurt.
***
I'm late to this particular party, but in recent weeks I've come to enjoy what folks seem to call "reaction" videos on YouTube. The videos consist of people listening to songs that are outside their usual frames of reference — a classical flautist listening to Jethro Tull, a vocal coach listening to Judas Priest, or young African-American guys checking out "My Generation" or the Animals' version of "House of the Rising Sun." (There are several such vids involving folks checking out "Hocus Pocus", by the way. That seems to be some sort of a line of demarcation.) On the one hand, because I'm a music geek, it's easy for me to forget that other people aren't, and that songs I think of as commonplace are old enough to seem exotic to lots of people. But I just really get a huge kick out of seeing folks having the thrill of discovery — especially of music I've known for most to all of my life. One of the pleasures of music, after all, is sharing it with other people and hoping they get the same charge out of it that you do. And although I don't remember which video it was, hearing someone react to Alan Price's organ solo in "House of the Rising Sun" with "He's taking it to church!" just makes me grin. Especially these days, it's nice to find these mutual joys. I recommend it.
***
And speaking of music, here's a little something to wrap things up. Ringo Starr turned 80 a few days ago, and this is probably my favorite of his performances. When the Spawn was little, I'd sing this to her at bedtime. And sometimes, even though she can't hear me, I still do.
See you soon!