Sounds like an oxymoron, doesn't it? With all the ugliness this year has offered, and with the unceasing drumbeat of anger, fear, and self-righteousness that surrounds us in our polarized culture, it's hard to remember that even now, there are reasons for gratitude. The year itself has become a bitter punchline — "2020, amirite?"
But while the year has seen suffering, has seen division and anger and lies, those are not the only conditions it has seen, and it's good to have a day that is dedicated to reminding us of that. In a world driven so often by envy, resentment, and fear, gratitude is an antidote.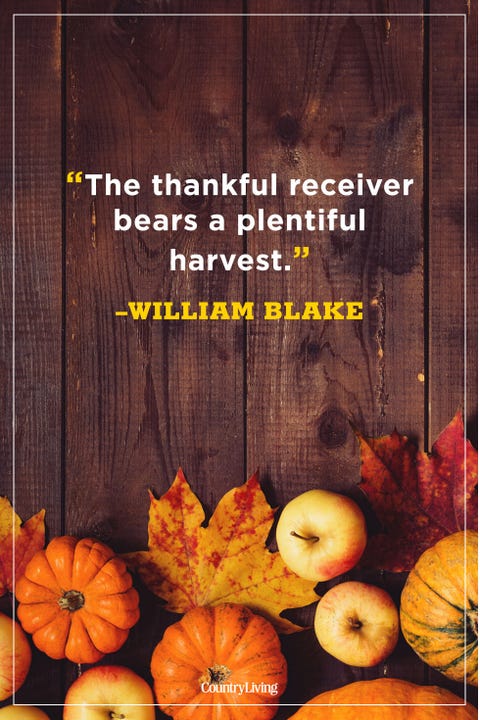 A few minutes ago, Mrs. M (having reached a stasis point in the day's cookery) came down here to the den. and said that she had been in the living room and saw as through fresh eyes how lovely our home is. About a week ago, a couple of young men were in the house, and both of them were struck by how nice the place is. One of them even said to Mrs. M that he hoped to get a good job so that he could one day have a home like ours. I agreed with her, and noted that we've done pretty well for a guy one generation out of the projects and a girl who came from rural Appalachia.
Similarly, the Spawn and Main Squeeze are comfortably ensconced in Terpville, having their own celebration up there. While we (and the Squeeze's folks) do our part to make their lives comfortable, they also make their own lives — as do we all, to a greater or lesser extent. Life has brought us opportunities and resources, some in good ways, others in awful ones. Not all of those have been within our control. But what we did and do with them was and is, And I'm grateful to live in a society that allowed my parents to rise, that has allowed Mrs. M and me to build lives of more comfort and satisfaction than we likely deserve, and for my daughter to build a life that she chooses.
Some of our blessings are material, but not all. I'm grateful for the chance to do what I love, however unlikely it may have seemed along the way. My educational career was checkered, and I have been the beneficiary of second chances along the way. I'm glad I was able to take advantage of them, and that now I can share the works and ideas and skills I love with others. And in my "other" career as a fictioneer, I'm astonishingly grateful for the success I've had, the talented and kind people I've met, and the belief those folks have shown in me and in my work.
And I'm grateful for y'all — my friends and readers, those I've met in person and online, through writing or music or however we've become connected. I'm touched that you're interested in some aspect of my life, and that you keep dropping by.
Yes, there are terrible things in this year, as there are in every year. No one who knows me will accuse me of being a Pangloss or Pollyanna. There will be terrible things next year as well. But there will also be things for which to be grateful, just as there are now. And I'll be reminded, inshallah, of that on a Thursday next November. But just as Scrooge pledges to keep Christmas in his heart, I hope to keep Thanksgiving in mine as much as I can, for all the years to come. And I hope you can as well.
Happy Thanksgiving, everyone.